Scheme Information
The Pension Fund Regulatory and Development Authority (PFRDA) has introduced the National Pension System-Lite (NPS-Lite) with effect from April 01, 2010. PFRDA has appointed NSDL e-Governance Infrastructure Limited as Central Recordkeeping Agency (CRA) for NPS - Lite. CRA is the first of its kind venture in India which will carry out the functions of Record Keeping, Administration and Customer Service for all subscribers under NPS - Lite.
The NPS-Lite is basically designed with the intention to secure the future of the people who are economically disadvantaged and who are not financially well to do. Towards this endeavor NSDL has developed a NPS Lite system on a low charge structure. The servicing model is of NPS Lite is based on group servicing. The people forming part of this low income groups will be represented through their organizations known as "Aggregators" who would facilitate in subscriber registration, transfer of pension contributions and subscriber maintenance functions. Subscribers in the age group of 18 to 60 can join NPS - Lite through the aggregator and contribute till the age of 60.
" SKDRDP IN NPS-SWAVALAMBHAN SCHEME"
Honorable Finance Minister announced to set up a National Social Security  Fund (NSSF)  for the workers working in the unorganized sector with an initial allocation of Rupees 1000 crores. This fund will support social security scheme for workers in the unorganized sectors. In addition, the "Swavalambhan Scheme" was also announced by The Finance Minister in the annual budget 2010-11 and implemented by the PFRDA. It  is meant to encourage eligible persons to save during their productive year for pension benefit in old age.
Sensing the importance of the above Scheme Dharmadhikari of Shri Kshethra Dharmasthala Dr.D Veerendra Heggadeji directed SKDRDP a charitable trust promoted by Dr.Heggadeji for the upliftment of rural poor folk to promote and implement the 'Swavalambhan Scheme' in the villages of Karnataka State, wherever the SKDRDP has presence through its project offices.
Accordingly SKDRDP decided to take up the responsibility of implementing the Swvalambhan Scheme and applied with PFRDA to act as an aggregator. PFRDA identifies intermediaries called "Aggregator"   to perform subscriber interface functions under NPS Swavalambhan in respect of their constituent groups. Shree Kshethra Dharmasthala Rural Development Project has been appointed as an aggregator for providing prescribed services under NPS-lite.
Migration to APY
The Central government has introduced new pension scheme called Atal Pension Yojana (APY) which gives advanced facilities to the customers. The government also ordered that migration  of NPS pensioners below 40 years of age to APY is mandatory. Unlike NPS, in APY premium is decided on the basis of selection of amount and age of the beneficiary. There is a single month, three month and six month options for contribution in APY. There is a provision to take the amount back whenever we want. However, opening a bank account is must for this. SKDRDP already transferred more than 28,000 NPS accounts to APY, which is most in the state.
Want to Join APY?
If you want to join APY, approach nearest SKDRDP Branch Office, along with KYC Documents, 1 Passport size Photo and duly filled Application Form procured from our office.
Aggregator
Aggregators are entities registered by PFRDA who act as the only link between the Subscriber and National Pension System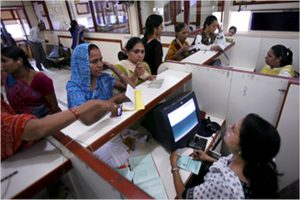 The Roles & Responsibilities of Aggregator
As clear from the above NPS Lite architecture, Aggregator shall be the first point of interaction between the subscriber and National Pension System Lite. The Aggregator shall perform the following activities as part of their mandated roles and responsibilities in the NPS Lite:
Registration of designated offices of the Aggregator
Subscriber Registration
Regular Contribution Uploading
Subscriber Servicing
Grievance Handling
Any other activities to be decided by PFRDA from time to time shall be executed by the Aggregator as per the prescribed operational guidelines/procedure and service standards.